Success Story: Tesi
Ferovalo's Elina Liehu and Tesi's Anna Kilpi present at Pörssiklubi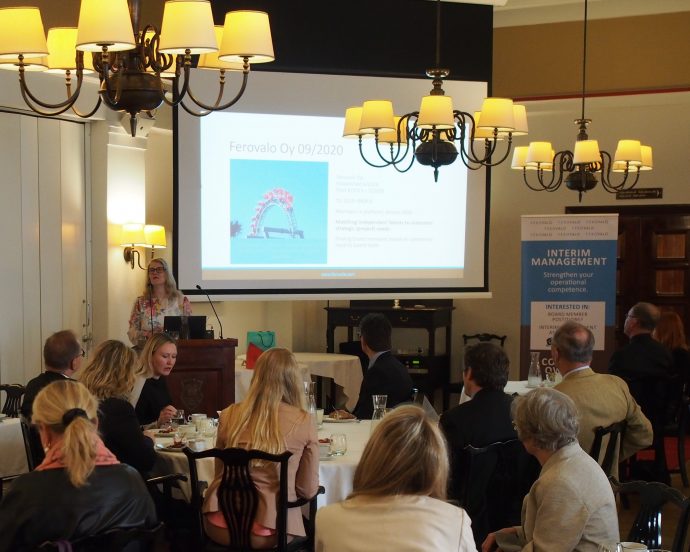 Anna Kilpi, Head of HR, Legal and Compliance at Tesi was a guest speaker, along with Ferovalo's Founder and Managing Director, Elina Liehu, at the Pörssiklubi breakfast in September of 2020. To more than 40 members of the club, Elina shared information about the gig economy and freelance work in general. Anna shared her positive experience finding an interim manager through Ferovalo.
Tesi is a Finnish investment fund owned by the Finnish State. Its purpose is to advance entrepreneurship and the economy by investing in companies with potential. Their portfolio is presently worth about 1,3 Billion Euros with a profit of 78 M€.
Tesi needed a CFO to replace their previous one who had moved on towards the end of 2018. Ensuring continuity and the impending end-of-year reporting was the top priority. An interim manager was the obvious short-term solution and a search was begun immediately through Ferovalo's service. A suitable interim CFO was found quickly and Gösta Holmqvist began working at the end of 2018. The contract was until the end of April 2019. Gösta's contract was flexible as the amount of his input varied from 2-5 days a week.
The recruitment of a permanent CFO took longer than expected and Gösta's contract was extended until the autumn of 2019 with the idea that he would brief the incoming CFO. His contract ended in September 2019.
Tesi was very happy with Ferovalo's service and the interim manager provided. The customer was impressed by the flexibility and the ability to tailor the assignment to their needs. Ferovalo's flexibility gave Tesi the liberty to take the time needed to hire a new CFO. They were also impressed with the high level of expertise of the candidates presented by Ferovalo, and especially Mr. Holmqvist. The only drawback in working with an interim manager had to do with governance issues such as approving transactions and personnel management, which are hard to outsource to someone not employed directly by the company. However, the advantages of hiring an interim manager far exceeded any bureaucratic challenges.
Find Anna's presentation (In Finnish) here and a machine translation of the presentation (In English) here.